Electrical Service & Repair
ACP Contractor #MCR0145
ECRA/ESA Licence #7000641
Bonded-Licensed-Insured
Durham: 905.683.4195
Toronto: 416.281.2700
Markham: 905.305.9535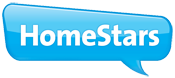 Technician Seal of Safety
We offer Same Day Service ...
Call us by 10 AM and we will be there today!
We are easy to reach ...
Real people answer our phones, not machines
1000's of parts on our trucks...
For fast on the spot repairs
in your home or business
Up Front "No Surprise" Pricing™...
You know the price!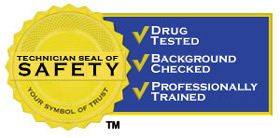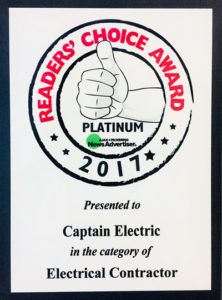 How We Became Captain Electric
Captain Electric was registered in Canada in 2005.
The company, which was formerly known as Nova Electrical Contractors Inc. (incorporated in Ontario in 1992), legally changed it's name to Captain Electric, in order to focus on Electrical Service Work primarily in the residential market. We have always worked hard to provide superior customer service. Now our name was a match for this mindset.
Why Change Our Name?
The sole purpose of the name change was to build a solid brand that stands for superior customer service and integrity. It was our belief that in order to properly brand the company, that a strong name that would be memorable, even unforgettable, would be needed. We believe that the name "Captain Electric" has achieved this goal.
Captain Electric Is Not A Franchise
We are often asked by new clients if Captain Electric is a franchise. Although Captain Electric is NOT a franchise, we do believe in many of the ideals of a franchise operation. If you think about it, we all have our favorite place to buy a coffee or purchase electronics. When you are on vacation away from home, you know you can trust that certain restaurant for a consistent hamburger, or a particular steakhouse franchise for a steak that is grilled to perfection every time, no matter what city you are in..
At Captain Electric, just like those franchise businesses just mentioned, having professional business operations in place, and endeavoring to achieve operational excellence are a daily concern. Clean uniforms and clean trucks, clean work areas and clean speech are things of high value to our clients and to the company. A police background check and voluntary drug testing of all employees helps to ensure the safety of our clients. Providing a friendly and consistent client experience each and every time is very important to our entire team, and to the reputation of the company. And when we come out to your home or business to work, we don't just get the job done, we do it to the best of our ability.
The name "Captain Electric" is trademarked in Canada, which gives us the exclusive legal right to the name in Canada. The phrase "To Serve and Connect" is also a trademark and copyright owned by Captain Electric Inc. in Canada. Our Logo Design was designed by Logo Design Works in the spring of 2005 and we have ownership of the intellectual property and the exclusive legal rights to the use of the logo.
Captain Electric is privately owned and operated from our present location in Pickering, Ontario. It is not affiliated with any other Captain Electric.
We will continue to build our brand, continue to focus on improving customer service, and achieving our goal of becoming the only company that you think of when you need Electrical Service in East Toronto, Markham, and Durham Region.
Brian Wilson
President
Captain Electric Inc.