Electrical Service & Repair
ACP Contractor #MCR0145
ECRA/ESA Licence #7000641
Bonded-Licensed-Insured
Durham: 905.683.4195
Toronto: 416.281.2700
Markham: 905.305.9535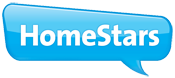 Technician Seal of Safety
We offer Same Day Service ...
Call us by 10 AM and we will be there today!
We are easy to reach ...
Real people answer our phones, not machines
1000's of parts on our trucks...
For fast on the spot repairs
in your home or business
Up Front "No Surprise" Pricing™...
You know the price!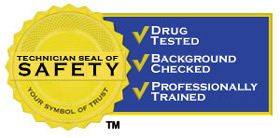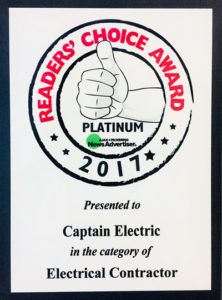 Pot Lights
A well designed lighting layout can dramatically improve the look and feel of any room. Arguably, no other single improvement can bring a home to life as well as a good lighting design. When designing a lighting layout, there are a number of things to consider. The lighting needs in a kitchen will differ from that of a family room or recreation room. Will recessed lights be sufficient? Is ambient light all that is needed or will accent lighting or task lighting also be required? The place to begin is with a good lighting plan. Captain Electric can provide this service. A good plan will ensure effective placement of recessed lighting. Today there are many choices available in recessed lighting, with a wide variety of light sources and trim styles.
Recessed LED lighting
This is the future, and new LED products are continually coming into the marketplace. LED lighting is by far the most economical type of lighting to operate. The benefits of Recessed LED lighting are: long life, very low or zero maintenance, very low cost of operation.
Recessed Incandescent Lighting
Incandescent lighting has been the standard since the days of Thomas Edison. Lamp (light bulb) types vary from standard A Style lamps to Halogen PAR Lamps or Reflector Lamps. Many styles of trims are available for recessed incandescent lighting, and this type of fixture is versatile, because can take an incandescent lamp now, and can be upgraded with LED lamps at a future date.
Recessed CFL (Compact Fluorescent) Lighting
Compact Fluorescent Lighting gained popularity in 2005. Although more energy efficient than incandescent lighting, CFL's cannot compete with LED's which clearly are the better option at this point in time. Other than in some commercial applications, we never recommend CFL lighting. All indications are that CFL's will be phased out in the near future. CFL's also contain mercury, which is an environmental issue if not disposed of properly. We no longer recommend CFL lighting for any application.