Electrical Service & Repair
ACP Contractor #MCR0145
ECRA/ESA Licence #7000641
Bonded-Licensed-Insured
Durham: 905.683.4195
Toronto: 416.281.2700
Markham: 905.305.9535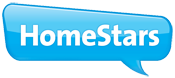 Technician Seal of Safety
We offer Same Day Service ...
Call us by 10 AM and we will be there today!
We are easy to reach ...
Real people answer our phones, not machines
1000's of parts on our trucks...
For fast on the spot repairs
in your home or business
Up Front "No Surprise" Pricing™...
You know the price!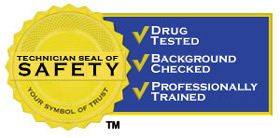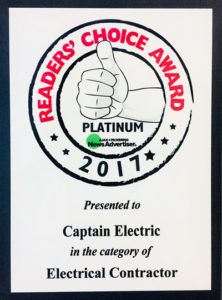 Customer Reviews & Comments
Service Panel, Kitchen Cabinet Lighting, New Receptacles
What A Great Job!
It was late, just after midnight, and I was sound asleep. My 94-year old Mother watched the 11 o'clock news as always and was just retiring for the night. She turned off a lamp and the bulb blew (so she thought) and called for me to fix it. I tried a new bulb and then realized the breaker had tripped. I turned the breaker off and on a couple of times but that didn't fix the problem.
Still sleepy with grit in my eyes, I scrambled around to find enough extension cords to get power back to her room. She wasn't going to let me go back sleep until I did.
For some time I had intended to have the service panel upgraded, and have receptacles and proper lighting installed throughout the basement. Push had now come to shove.
I called Captain Electric and Diane prompted me to try the breaker again with a little more force. Aha! Success! And in the cold grey light of dawn I was now on a roll. She booked an assessment with Ryan. He patiently listened to me and wrote up a plan that covered everything I wanted done in Stage One.
Fast forward to yesterday. Four of you arrived with all of the parts, tools, knowledge and experience needed to get the job done. It was a long day but you were diligent, friendly, polite and efficient. Although the generator was primarily to give you light to work by, I appreciate that you brought an extension cord up to my Mother's room that allowed her to watch DVDs all day -thank you.
I am thrilled with what you did. The service panel is up-to-date, up to code and has lots of room to spare (future-proofing, I think they call it). The kitchen cabinet lighting is awesome, and my workshop now has sufficient receptacles to eliminate the temporary fixes that were in place. Stage One complete.
My sincere gratitude for a job well done. Once the basement is framed, I'll be in touch about Stage Two.
Thanks again, Jan T.
Electrical Panel Replacement
"From the moment I contacted Captain Electric and spoke to Diane, I knew this was a company I could trust. From Diane, to Dave to Ryan, they explained in great detail the process involved in replacing the electrical panel in my home. They all worked together as a team and made any concerns I might have had disappear. They are professional, precise, accurate, helpful, knowledgeable and more important, very respectful. Clean up was awesome. Way to go Diane, Dave and Ryan, you exceeded my expectations and then some. I would without hesitation, recommend Captain Electric for any electrical or other work you need to have done. Diane – your the best." E.K. Pickering Ontario
Panel Upgrade
'As you know, we had our condo's old (original) fuse box replaced with a new, switch type panel, by Captain Electric. We were pleasantly surprised at how quick and hassle-free the conversion was. We love the convenience of the switch type. No more fuses to mess with! Your electrician left us with a clearly marked listing of what each switch on the panel controlled, which we didn't have before. The panel also has some extra switches, if we make electrical additions to our home. Needless to say, when that day comes, we will be calling Captain Electric.
Thanks and Best Wishes Always." J.C. (Homestars Review)
Knob-and-Tube Wiring Replacement
"When initially looking for an electrical contractor in the Oshawa area, I visited the Homestars website on the Internet. I read good accounts from people that had hired Captain Electric. And felt like they'd be a good fit for my job, too.
In order to qualify for my Home Insurance, I needed to have all of the old knob-and-tube wiring in my 30's-era house removed. Enrico came by and did a quick estimate of the costs, including options for additional outlets and lights throughout the house..
He and his crew performed quick and admirable work. They were always on time, and acted completely professional at all times. I would easily recommend them to anyone looking for quality electrical contracting work!" – R.D.
Huge Power Outage
"Hi Diane, Thanks for the information. I will need to do more research for sure on solar before I move forward. However, I would like to pass on my appreciation for the work that Dan and his trainee completed at my home. So far so good. When I had another huge power outage, and phoned your after hours line on the Friday before Christmas!!! the man I talked to helped me sort out the problem over the phone, as I was calling from a neighbour's house, and it did indeed turn out to be a problem with the wires outside. Hydro 1 attended and had to adjust the wire both at the house attachment and the main wire on the street. I meant to call earlier to thank him, but you have now given me this opportunity. Thank you very much for your professionalism." A.R.
Just a note to say thank you very much for coming and helping us with our electrical problems, we appreciated it very much. Thanks again!"
M.J. Toronto
Prompt and Courteous Installation
"I just wanted to inform you of the excellent service provided by Captain Electric while working in my home.
My wife and I have recently purchased a new home and have had approximately 10 service crews through our home over the last 2 weeks. With each of these service calls, vague installation / inspection times were given and the service crews have at times been quite unprofessional. Some of the work has been sloppy, with little regard for cleanliness of the home or preservation of the paint and woodwork.
Your company is distinguished from these services by providing prompt and courteous installation, and a narrow window of time for installation (noon till 2 p.m.). Mr. Wilson left the work area cleaner than when he arrived and provided a truly professional installation.
I am pleased to recommend your company to neighbours and friends."
Sincerely, A.W., North York
Pot Lights, Dimmers, and Cabinet Lighting
"Thank you for the great job you did for us. The lighting layout for our basement recreation room, bar and washroom is fantastic. The pot lights, dimmers, and all the cabinet lighting were well worth the cost, it's our favourite part of the house, and all our friends love it too."
F.L., Ajax, Ontario
Panel Upgrade & Outdoor Receptacle
"I just wanted to let you know how happy we were with everything the guys did for our panel upgrade. They were neat and tidy and had everything finished right on schedule. Our outdoor receptacle in the backyard was not working right, and they fixed this for us as well. We feel a lot safer now that the house has been inspected. Thank you again for a job well done. I will continue to recommend Captain Electric to my friends and neighbours."
M.S. Toronto
Excellent Job!
"Your fellows did a fine job and we are well pleased. We were extremely satisfied with the work. Excellent job, very friendly and helpful."
K.S. Markham, Ontario
Wonderful Job
We would like to thank Dan, your electrician for a wonderful job.
His attitude and skills are much appreciated and is a credit to your company.
We would never hesitate recommending him to family and neighbours.
Well done Dan."
M&S O'B Oshawa