Electrical Service & Repair
ACP Contractor #MCR0145
ECRA/ESA Licence #7000641
Bonded-Licensed-Insured
Durham: 905.683.4195
Toronto: 416.281.2700
Markham: 905.305.9535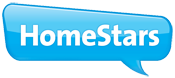 Technician Seal of Safety
We offer Same Day Service ...
Call us by 10 AM and we will be there today!
We are easy to reach ...
Real people answer our phones, not machines
1000's of parts on our trucks...
For fast on the spot repairs
in your home or business
Up Front "No Surprise" Pricing™...
You know the price!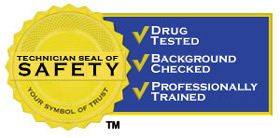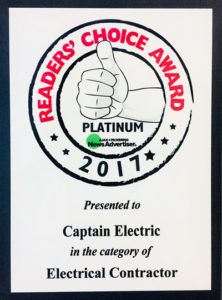 Electrical Safety Code Defects Correction
Any Code Defect on Electrical Work is Serious Business. Captain Electric can help.
At Captain Electric the safety of your family and your property are our concern. A safe Electrical System is the only way to protect your family from shock hazards or to protect your property from the danger of fire that is caused by unchecked electrical problems.
Unfortunately, many individuals do not understand or appreciate the dangers that are involved until a tragedy happens. Amateur wiring that has not been inspected is often responsible for unsafe electrical conditions that result in fire, shock and even electrocution. For this reason, any time that a qualified electrician, electrical contractor or an Electrical Safety Authority Inspector report on any unsafe electrical condition, this should be taken very seriously.
All Electrical Work in the Province of Ontario is subject to the Current Edition of The Ontario Electrical Safety Code. All Electrical installations are subject to inspection by the Electrical Safety Authority.
When the Electrical Safety Authority issues a "Notice of Defect" this is something that needs to be corrected as soon as possible. Only an ECRA licensed Electrical Contractor is authorized to correct these deficiencies.
We will be glad to help you make your home or business safe from electrical hazards.