Electrical Service & Repair
ACP Contractor #MCR0145
ECRA/ESA Licence #7000641
Bonded-Licensed-Insured
Durham: 905.683.4195
Toronto: 416.281.2700
Markham: 905.305.9535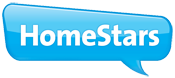 Technician Seal of Safety
We offer Same Day Service ...
Call us by 10 AM and we will be there today!
We are easy to reach ...
Real people answer our phones, not machines
1000's of parts on our trucks...
For fast on the spot repairs
in your home or business
Up Front "No Surprise" Pricing™...
You know the price!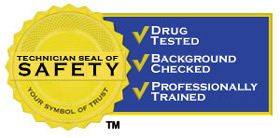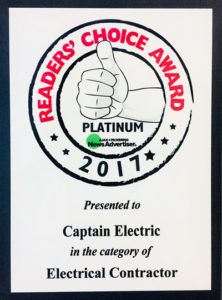 Wireless Audio – how to play big whole home sound.
Captain Electric offers big wireless sound from smartphones, TVs, laptops and tablets.
No networking, no programming needed for wireless audio.
TVs and mobile devices are being designed with small loudspeakers to save space and make the final product thinner. The physical reality is that small speakers vibrate less air and generate less sound in our homes and offices.
Get big sound from your entertainment
Imagine big sound with any app, game, video or show, regardless of what device you're using. Captain Electric can install GoRave Audio to unlock big sound from your slim smartphones, tablets, TVs and laptops.
Push a GoRave Audio Sender into your device and press play on any app.
The Audio Sender transmits every bit of audio your device can generate.
Hear your big sounds playing from loudspeakers installed in the space.
No networking and no programming required!
Download the GoRave infographic here
Call or email Captain Electric to talk about adding a GoRave Whole Home Sound to your space.
Watch the following video listing 4 reasons why installing professionals recommend GoRave.