Electrical Service & Repair
ACP Contractor #MCR0145
ECRA/ESA Licence #7000641
Bonded-Licensed-Insured
Durham: 905.683.4195
Toronto: 416.281.2700
Markham: 905.305.9535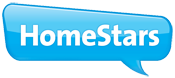 Technician Seal of Safety
We offer Same Day Service ...
Call us by 10 AM and we will be there today!
We are easy to reach ...
Real people answer our phones, not machines
1000's of parts on our trucks...
For fast on the spot repairs
in your home or business
Up Front "No Surprise" Pricing™...
You know the price!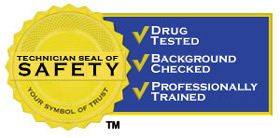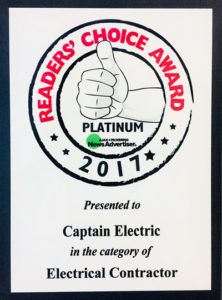 Installing Electric Vehicle Charging Stations
The long anticipated revolution in the auto industry is finally underway. The new EVs (Electric Vehicles) are already cruising along in Durham Region and Captain Electric is a certified installer of Electric Vehicle Charging Stations.
General Motors' Chevy Volt was launched in Canada during the last quarter of 2011.  The Volt is a hybrid EV which has great benefits for commuters travelling 30 – 60 kms between charges.
The Nissan Leaf , a pure EV, is also currently available, and many other auto manufacturers are releasing their rendition of an Electric Vehicle in the coming years.
Once you drive your new EV home from the dealership, the issue becomes one of recharging the battery. Although there will eventually be a widespread infrastructure of charging stations, nearly all EV owners will want the option to recharge at home.
Although you can plug the cable into a standard electrical outlet, the recharging time is slow, averaging in at around 10 hours.  However, the charge time will be significantly reduced by having Captain Electric install a 240 volt Charging Station in your garage or carport. It can be installed either indoors or outdoors.
When installed by a certified installer like Captain Electric, these charging stations are reliable, safe, and easy to use.  In addition to the convenience of choosing when to charge,  they will reduce your battery charging time to about 4 hours, and will allow you to drive more gas-free and emission-free kilometers.
Watch this video for an explanation of EVSE – Electric Vehicle Supply Equipment.
Ontario residents are eligible for an $8230 rebate on the purchase of an EV, and having a 240 Volt Charge Station installed will save you even more money. If you choose to recharge at home during the electrical grid's off-peak hours, Dan Mepham, product manager for the Chevrolet Volt, estimates cost ranges from only $1.00 to $1.20 per vehicle charge!
If you would like to get more information on installing an EV Charge Station at your home or business, please call our office or e-mail us at echarger@captainelectric.ca.